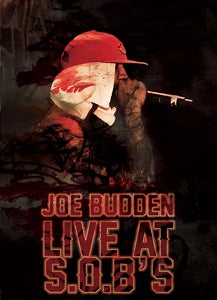 $

15.00 - On Sale
Order your limited edition AUTOGRAPHED copy of Joe Budden "Live At S.O.B's" DVD. This is an extremely limited pressing and all copies will only be available through Joe's store.
This limited edition DVD will give fans an up close look at the Joe Budden Live Experience, along with behind the scenes footage and bonus extras!
Fans who order the AUTOGRAPHED DVD through Joe's store will be put on a limited TEAMVERIFIED list and have the opportunity to attend exclusive TEAMVERIFIED concerts and events.
Joe Budden Live At S.O.B's DVD (AUTOGRAPHED)
Release Date: February 4, 2011